11/05/2023
The 7th Croatian Burlesque and Cabaret Festival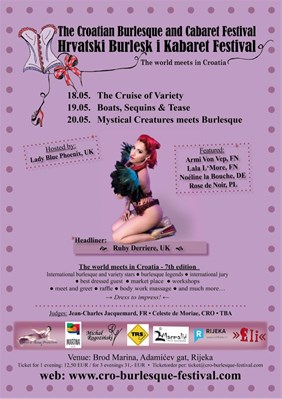 A place where we celebrate with positive vibes, have a great time together and enjoy high class performers coming together...
This years themes:

18.05. The Cruise of Variety
19.05. Boats, Sequins and Tease
20.05. Mystical Creatures meet Burlesque

✨ Dress to impress - every evening we chose the best dressed guest.
✨ Workshops and integral Bodywork during the day.
✨ Raffle tickets - prizes.
✨ Stalls
✨ Meet international stars.
✨ And 3 incredible nights with sparkling shows.

Get your ticket now, seats are limited, and enjoy the best time in the year.
Tickets are on donation.
The min. donation for 1 night is 12,50 €
The min. donation for 3 night ticket is 31,- €
No entry under 18 years.
We're looking forward to welcome you on board.