24/12/2021
New year's celebration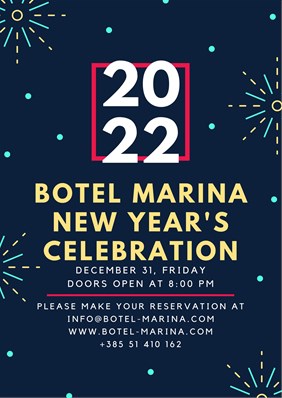 We are inviting you to celebrate New year's eve and enjoy in fine dining with us.
Featuring a buffet style feast of courses of domestic inspired cuisine
(the menu consists of variety of appetizers (hot and cold), main dishes, desserts).
Beginning at 8 pm & finishing just after midnight with a final glass of sparkling wine.
If you are interested, please make a reservation via call +385 51 410 162 or email info@botel-marina.com.
Full payment of 275,00 kn (cca 38€) per person is required to confirm booking.
We are looking forward to meet you.
Best regards,
Botel Marina team