18/03/2019
Croatian Burlesque and Cabaret Festival 2019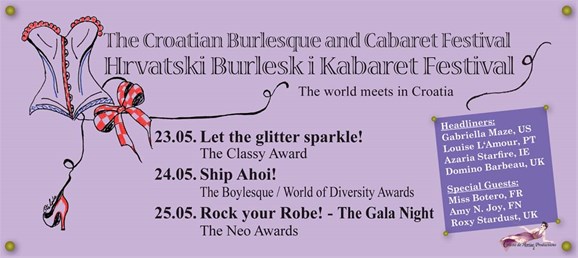 This year's edition of Croatian Burlesque and Cabaret Festival will take place from May 23 to 25 at the unique Botel Marina in the heart of Rijeka. Each evening has its own special story!
23.05. Let the Glitter sparkle!
A classic Burlesque Award.
24.05. Ship Ahoi!
Boylesque & World of Diversity Award.
25.05. Rock your Robe! Gala evening.
Neo Burlesque Award.
During all three days You can expect workshops held by international artists, and in the evening You'll find stands offering clothes and fashion accessories.
If You wish to have Your hair styled, You can leave it to the experienced hands of our hair stylist Iva Dabo who will be present during the entire course of the Festival.
And if You wish to have Your skin decorated, You can get a tattoo by our resident tattoo artist Dino Maravić.
Dress to impress!
Put Your fanciest gowns on and win a prize in the Best dressed visitor competition!
You can also win a prize in our lottery! By buying a ticket, You do not only support the Festival, but also the artists who travel from accross the globe in order to perform in Rijeka.
Do not miss this unique event. Experience the fabulous world of Burlesque and Cabaret! We are looking forward to Your visit!
To get more information, follow us on Facebook or visit the CroBurlesqueFestival website:
https://m.facebook.com/CroBurlesqueFestival http://croburlesquefestival.wixsite.com/croburlesquefestival
Photos