22/05/2020
DRIVE-IN MOVIES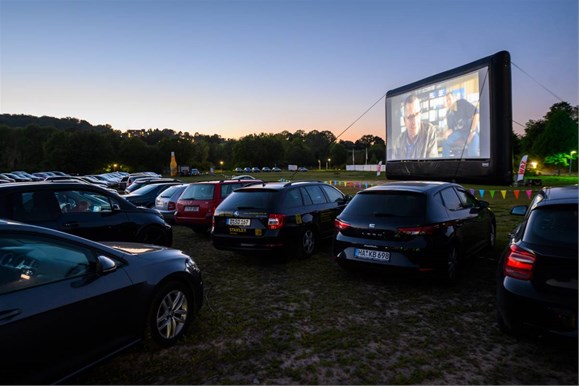 The movie screen is rising again at the Beretich parking lot in Rijeka, where a new edition of drive-in movie theater is being held in May, organized by'' Art-kino'' and the ''Filmaktiv'' association.
The drive-in movie theater program is returning to Rijeka, where the people of Rijeka, from the safety of their car, after a break of almost two months, can once again enjoy the charms of big screen movies.

The month of May is marked by film classics, and the program at Beretich opens on Saturday, May 9 at 9 pm with the humorous drama Dangube (I Vitelloni, 1953), by the great Italian cinematographer Federico Fellini.
For the next two Saturdays in May, 16 and 23 May, people will be able to watch the masterpiece of the French new wave Jean-Luc Godard Until the Last Breath (À bout de souffle, 1960) and the legendary western Sam-Peckinpaha The Wild Bunch (1969).

In order to ensure additional safety measures in the maintenance of the program, in accordance with the recommendations of the competent institutions, screenings can be attended only by visitors in vehicles (maximum two people in the vehicle, unless it is a family with children), and stay in the vehicle is mandatory during the program , with the front left window lowered. As in previous years, the audio recording will be available via the assigned radio frequency.

Since this is the first public program in the city of Rijeka after the onset of the coronavirus crisis, which aims to awaken a sense of belonging and togetherness with valuable films, the program is free for all visitors, with prior reservation.

Due to the limited number of seats, the obligatory reservation can be made via e-mail ulaznice@art-kino.org or by calling the number 051 / 323-261 on working days from 10 am to 2 pm, and is valid only upon receipt of confirmation from the Art-cinema staff. To reserve a place, it is necessary to state the registration plates of the vehicle with which the visitors will come, the number of spectators in the vehicle and the mobile / contact phone number. Visitors outside the vehicle or inside the vehicle whose license plates are not on the reserved list will not be able to access the drive-in.

Reservations for the first Autokino with a screening of the film Dangube are accepted from Wednesday, May 6 at 12 noon.

In case of heavy rain or bad weather, the screening of the film is postponed to the next day, Sunday, May 10 at 9 p.m. The organizers invite all interested citizens to follow further information on the website and social networks of Art-kina and Filmaktiv about possible further changes in the maintenance of Autokin according to the instructions of the authorities related to the COVID-19 pandemic and in accordance with the weather.
(Source: Rijeka Tourist Board)