10/12/2019
ADVENT IN RIJEKA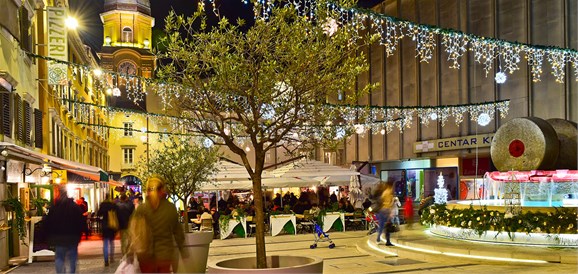 Step into the magic of this year's Advent in Rijeka
Luxuriously decorated streets and squares, an ice skating rink, and various musical and theatrical performances at numerous magnificent locations are just a small part of the enchanting Advent in Rijeka programme. The sound of Christmas carols can be heard all around, and the delightful scents of mulled wine and hot chocolate guarantee a truly memorable experience for all visitors. A festive atmosphere, mild winter climate and the closeness of the sea together make the perfect recipe for the Advent of your dreams.
The lighting of the Christmas lights kicked off the wonderful Rijeka Advent and transformed Korzo into a Christmas boulevard, where Trsat Brass Band Santas, the Karlovac Drummers and the Spinčići Music Society will sing Christmas carols and spread Christmas cheer. Santa's choo-choo train will also help by offering free rides through Korzo from 5 December 2019 to 12 January 2020. Loyal vendors will showcase their products at the Christmas booths lining Korzo, so that you can buy authentic local products, an assortment of souvenirs and Christmas presents. Korzo will boast the biggest and brightest Christmas tree as its centrepiece, providing perfect Christmas photo opportunities with your loved ones. As in recent years, Ivan Kobler Square will be adorned with Christmas lights and filled with Christmas spirit from 30 November to 7 January. The programme begins with the lighting of the Advent candle and resumes with an evening holiday music programme and an abundant gastro and holiday offering. The excellent music programme consisting of Croatian and international hits will warm up the visitors during the cold days of Advent. Throughout December, the various daily gastro, music and dance programmes will bring joy to 128th Brigada Square. The youngest visitors can enjoy performances by children's choirs, the present hunt and a variety of children's plays, while in the evenings, the audience will get the chance to sing along and dance to the tunes of TBF, Koktelsi, Opća Opasnost and many others.
In the spirit of the Christmas magic, BOTEL MARINA gives you promotional prices for accommodation in the city center from 10.12. do 31.12.2019.
Hurry up, just give in to the magic of Rijeka Advent in just a few steps.