11/03/2015
Days of Francophonie in Rijeka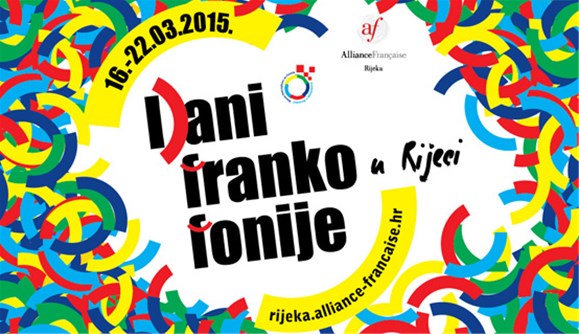 ...a Breath of French Culture in Rijeka; 16-22 March
This year the entire world, including Rijeka, will celebrate the Days of Francophonie, an event dedicated to the language and community that comprises 200 million speakers and 870 million citizens of states that are members of the International Organization of the Francophonie.
The Days of Francophonie will be held in Rijeka from March 16th to March 22nd and numerous events will showcase the wealth of French culture, customs and values. The program will include an exhibition by the photographer Robert Doisneau, the French Composers' Evening, an evening dedicated to the French author and Nobel Prize laureate Patrick Modian, the "Laurette de Paname" cabaret, rap and beatbox performances by Yoshi and Faya Braz featuring Osijek rapper Kandžija, a lecture in honour of the 50th anniversary of launching the first French satellite, a French language movie retrospective at the Art kino Croatia as well as enological and gastronomic delights at the Brasserie As Belgian pub, La Rose bistro and the cafe La Guardia. The Days of Francophonie also include events for children, such as language and art workshops, picture book presentations and cartoon screenings.
CYCLE OF FRANCOPHONE FILM
Art-kino Croatia/ 16-22. March
IN FRONT OF GIOCONDA/DAVANT LA JOCONDE
Robert Doisneau exibition of photography
kortil gallery /16-25. March at 7 pm
EVENING OF FRENCH COMPOSERS
classical music concert- Andrea jelavić (flute) and Filip Fak (piano)/ Circolo Hall, Rijeka Italian Community/ 17 March at 7,30 pm
FIRST ENCOUNTER WITH FRENCH LANGUAGE
language workshop for children of age 4-7.
Alliance Francais Rijeka / 18. March at 5,30 pm
LETS READ MODIANO
evening dedicated to Patrick Modian
National Reading Room/ 18. March at 6 pm
A GREAT FACTORY OF WORDS
presentation of a picture book and painting workshop
GKR Stribor Children Department/ 19. March at 6 pm
LAURETTE DE PANAME-PARIS CABARET
KUC Kalvarija / 19. March at 8 pm
YOSHI AND FAYA BRAZ
rap & beat box concert, guest Kandžija
OKC Palach / 20. March
ANIMATED FILMS PROJECTIONS
Art-Kino Croatia / 21. and 22. March
FRANCOPHONIE IN BELGIUM PUB
Brasserie As / 21. March
50 YEARS SINCE LAUCHING "ASTERIX"
Rijeka Astronomy Centre / 21. March at pm
FRENCH CUISINE SPECIALTIES OFFER
Bistro la Rose / 22. March
MUSIC AND DRINK IN FRENCH MOOD
La Guardia coffee bar/ 22. March